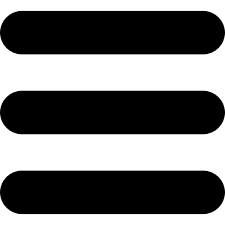 PRONTO SOCCORSO PSICOLOGICO "ROMA EST"
l'intervento psicologico di qualità durante l'emergenza
da Roma in tutta Italia
e non solo
tel. +39 0622796355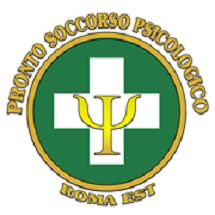 __________________________________________________
Psychological First Aid Lahore Pakistan
__________________________________________________
Iman Fatima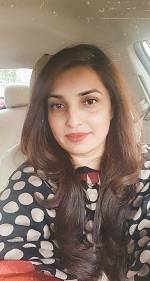 "Psychological First Aid: a step towards contentment and happy life"
I am a certified clinical and Industrial psychologist.
I have worked with a variety of clinical issues such as drug addiction, depression, anxiety disorders.
I have provided leadership and worked in capacity of conflict manager at organizations.
I have also supervised a variety of thesis related to emotions and behavior outcomes.
I am working in Lahore.
I can be reached on the following number and email ID.
No: +923039555384
Email: imanfatima95@gmail.com
__________________________________________________
Sabrina Asim
Embracing the aim to prosper and progress by contributing to the society and making it a better place, it is essential to work and fight to make a difference in people's lives and bring a smile on their face, whereby, the approach of 'psychological first aid' fully inclines with this motive. Designing individualized management plans according to a multi-modal perspective, is crucial in order to serve that best suits the needs of the clients.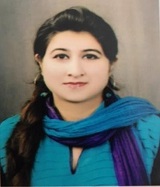 I'm Consultant Clinical Psychologist who has been working in a diverse variety of Mental Health Institutions, Rehabilitation Centers and Universities for the past 7 years for Counseling, and Psychotherapeutic Assessment and Management in the best interest of the clients' disorders. I have received several Honors and High Recognition Awards in my vast experience of Clinical Psychology. I'm engaged in continuous Training, Professional Development and conducting Workshops for the service to community, regarding multiple aspects of Mental Health. I have conducted extensive research on 'Social Networking' and 'Perfectionism and Anxiety', and have been awarded for successfully presenting all areas of my Research Papers in both National and International Conferences. I'm further engaged in developing new research projects, contribute my writings in magazines and appear as an expert on various public forums. I keep myself enthusiastically involved in a vast nature of co-curricular activities such as participating in conferences, workshops, & seminars etc being conducted regarding my areas of interest. Currently, I'm working as a 'Consultant Clinical Psychologist & Psychotherapist' in 'Global Synergy Coaching Institute', an internationally based wellness centre for Mental health issues. I'm alongside working as a professional 'University Campus Clinical Psychologist' for the counseling & psychotherapy of university students & conducting research in Clinical & Counseling Psychology, in the 'University of Management and Technology', Lahore, Pakistan. My Counseling and therapy services cultivates a multidisciplinary approach to empower clients to change from within and arrive at an exceptional life beyond prediction! Some of the goals are as follows:
• To provide a safe, supportive and non-judgemental environment for clients to overcome a diverse variety of concerns.
• To enhance mental well-being and quality of life.
• Training clients to become their own therapists!
• Sessions are provided primarily in English, Urdu and Punjabi languages.
• Both in-person and online sessions are conducted globally via diverse variety of modes most suitable for the client.
My University is located in 'C Block, Johar Town, Lahore-Pakistan.
Clinic is located in Defense Housing Authority, Phase 5, Lahore- Pakistan.
License consists fulfilment of the 'Higher Education Commission' (HEC) criteria for a Certified Clinical Psychologist that includes the following:
• MS (Specialization) in Clinical Psychology from and HEC recognized institution with a minimum CGPA OF 2.5 and above.
• Associating and Practicing with a University or a recognised Mental Health Clinic after post-graduation.
The standards and criteria of being classified as a 'Licensed Clinical Psychologist' are fully met with distinction.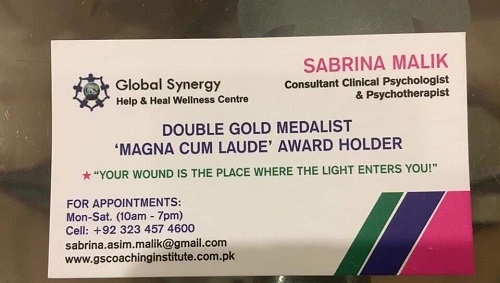 Telephone number: +92 323 4574600
__________________________________________________
Work for Psychologists
We select freelance psychologists to be included as external collaborators in our international psychological first aid network already composed of 324 freelancers present in 22 countries ( Italy, United Kingdom, Hong Kong, Mexico, Russia, Argentina, Greece, Kenya, Ghana, Mozambique, Brazil, Portugal, Serbia, Romania, Bulgaria, Egypt, Jordan, Pakistan, Azerbaijan, India, Spain, Switzerland ). Send the curriculum vitae to info@pronto-soccorso-psicologico-roma.it .
__________________________________________________
PRONTO SOCCORSO PSICOLOGICO "ROMA EST"
l'intervento psicologico di qualità durante l'emergenza
tel. +39 0622796355
COPYRIGHT 2019 - 2020
STUDIO DI PSICOTERAPIA DEL DOTT. GIANNI LANARI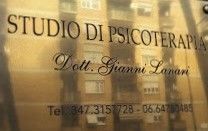 Piazza Sempronio Asellio 7
( fermata METRO GIULIO AGRICOLA )
ROMA
P. Iva 06019411005 - Tel. +39 0622796355
ATTENZIONE

I componenti della rete del progetto "Pronto Soccorso Psicologico Roma Est" non offrono cure, supporto o consigli immediati per le persone in una crisi suicida.
Per tale tipo di emergenza chiamare il 118 o il 112.

Ogni componente della rete del "Pronto Soccorso Psicologico Roma Est" contribuisce al progetto in maniera pienamente autonoma ed è quindi responsabile individualmente -anche sul piano legale- del proprio operato.